After all the distances are often vast and the road surfaces questionable, if they even exist. The thought of getting stuck after bumping down some dusty track and spending time trying to free the vehicle rather than sitting in the shade enjoying a cold one, tends to discourage even the adventurous.
For the fairly well heeled the solution could lie in a Toyota Land Cruiser Prado. This luxury 4×4 is so far removed from its tough-as-nails Land Cruiser cousins that many refer to it simply as the Prado.
But due to its genuine off-road ability Toyots like to maintain the link. Three days in the Namib desert gave us a chance to experience the latest incarnation of the Prado first hand. As would be the case for some Prado owners we stayed in a hotel overnight which meant the Prado covered a short section of tar before heading for the wide open spaces. However Toyota are well aware that just as many bush fans will choose to camp. Although the Prado is spacioius this would probably require a trailer or off road caravan, especially when using all seven seats. There is a choice of two engines, both already familiar – a four-litre V6 petrol engine with dual VVT-i and a three-litre turbo-diesel. The quad-cam V6 petrol delivers 202kW and 381Nm.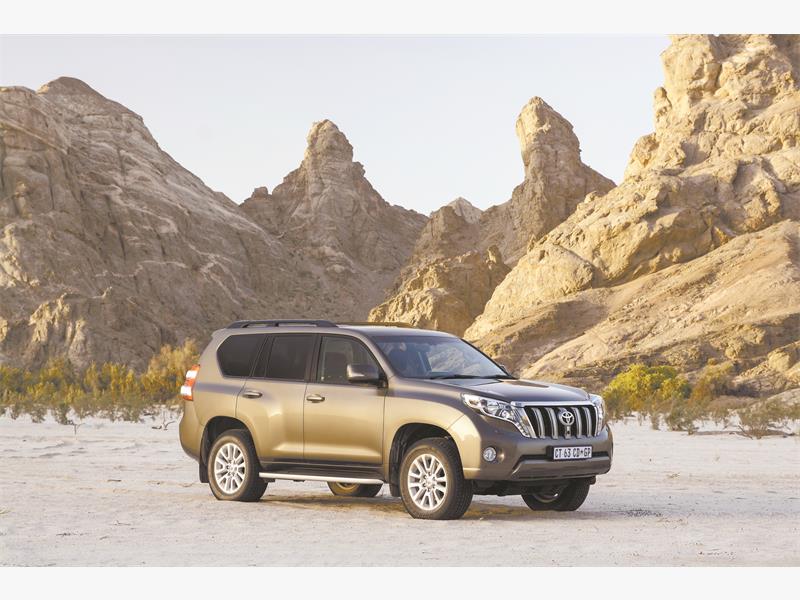 They are mated to a five-speed automatic transmission with sequential shifting.
We did not do any actual towing but both options would appear to be up to the job. Trailer sway control is offered and uses the the existing vehicle stability control technologies to aid the driver in the event that a trailer starts to swing from side to side.
It is designed to suppress swaying that can be triggered by factors such as crosswinds, bumpy roads and sharp turns of the steering wheel.
It detects trailer sway based on information from the vehicle's yaw-rate sensor, acceleration sensor and steering sensor.
If sway is detected, the system uses deceleration control and yaw-moment control to suppress the effects. A slip indicator in the instrument cluster warns the driver while the stop lamps illuminate to alert following drivers.
The system operates seamlessly and does not require the addition of hardware or any change to the trailer.
So having found your way from the hotel or campsite to the chosen adventure site it is time to explore it. This is where the Prado really comes into its own.
A drive down a stretch of beach required only the selection of the central diff-lock, mechanical or electrical depending on model, for safety sake.
Colonies of seals outside Walvis Bay regularly forced us back into the softer sand to avoid the animals as they head for the water and away from the percieved threat.
These changes of course and road surface where absorbed effortlessly by the Prado and this is what the vehicle is really all about. Effortlessness.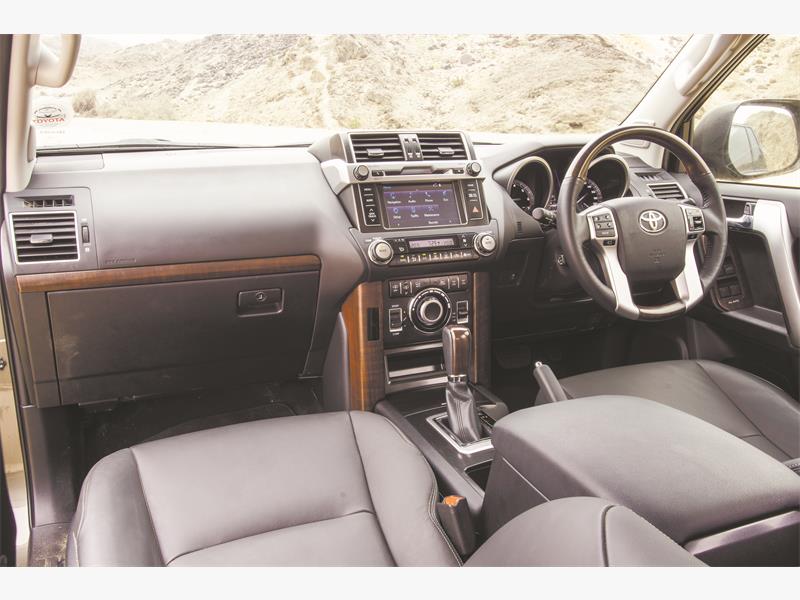 All the time the Prado is contending with the rough conditions it is mitigating that impact on occupants. The new Land Cruiser Prado comes with an improved version of Toyota's Kinetic Dynamic Suspension System (KDSS) technology. . The refined KDSS optimises handling stability and ride comfort, including smoother front-rear weight transfer during cornering.
KDSS controls Prado's front and rear stabiliser bars, providing optimum stability and ride comfort on road, and longer wheel stroke for optimum traction off road. KDSS debuted on Land Cruiser 200 Series in 2007 and was upgraded with electronic control when the current-generation Land Cruiser Prado was launched in 2009.
Prado VX versions have the added features of Adaptive Variable Suspension (AVS) front and rear, and height-adjustable rear air suspension.
Inside the Prado comfort remains of paramount importance. A new feature on both trim levels is the adoption of power-adjustable front seats with memory (eight-way adjustment for the driver and four-way for the passenger seat).
To improve ease of entry and exit for third-row occupants, the forward-folding angle of the second-row seats has been increased by more than 12 degrees. The floor has been lowered by 38.1mm at the third row of seats to increase foot space.
Seat heating is extended to the outboard second-row seats in VX models, offering independent operation with two temperature settings.
A seven-inch full colour screen (new for TX), which shows reverse camera images on all grades and satellite navigation on VX models as well as displaying multimedia and audio content.
In addition the VX model also features a new 4.2-inch colour TFT multi-information display (MID) located between the dials. Operating in conjunction with a switch on the steering wheel, it provides significantly enhanced off-road driving assistance.
Information regarding individual wheel traction control, steering angle and differential lock operation can be displayed simultaneously for maximum driver assistance in challenging terrain.
Top-level VX models get a Multi-Terrain Monitor which gives drivers additional guidance when negotiating off-road obstacles by relaying video imagery via four cameras located at the front, rear and sides of the vehicle.
There are a whole host of other off-roading aids similar to those found on other upmarket 4x4s, but these we never really used.
I engaged low ratio once, simply to experience the automatic Crawl Mode, which is most impressive. Multi-Terrain Select is another VX standard.
This feature automatically controls power outputs and braking inputs to provide the swiftest progress over a variety of surfaces. The main change is that this feature is now operated by a dial.
Unfortunately the dial is rather obscurely marked requiring the driver to refer to the TFT screen to check which mode is engaged.
What about just writing it on the dial in the traditional manner?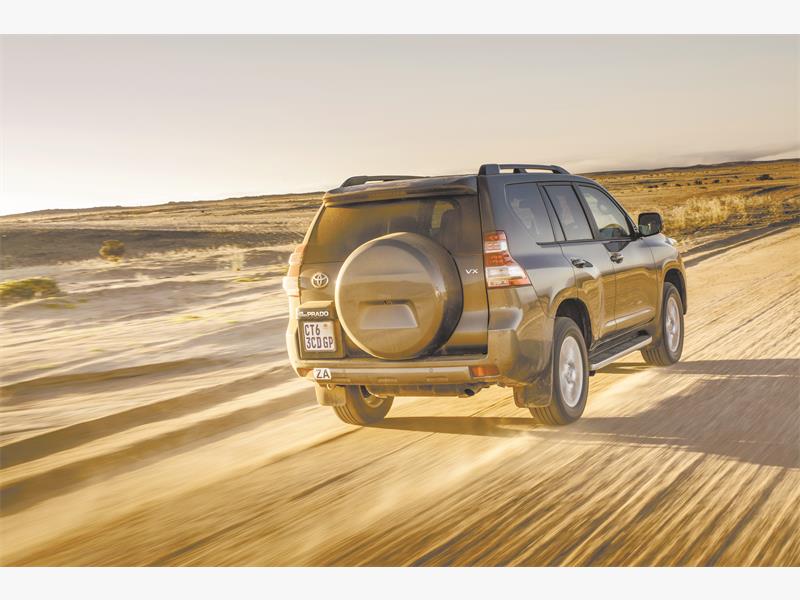 The Prado benefits from a three-year/100,000km warranty and comes with a standard five-year/ 90 000 km service plan.
The new models are also supported by the ToyotaCare Roadside Assistance Programme which entitles customers to 24-hour roadside assistance.
Pricing has been kept very competitive and the Land Cruiser Prado TX 4.0 V6 Auto starts at R632 200.
Land Cruiser Prado TX 3.0 DT Auto R642 000
Land Cruiser Prado VX 4.0 V6 Auto R728 200
Land Cruiser Prado VX 3.0 DT Auto R732 400
Land Cruiser Prado VX 4.0 V6 Auto Sunroof R738 200
Land Cruiser Prado VX 3.0 DT Auto Sunroof R742 400