Further to the north, the Canadian province of British Columbia was under a state of emergency as fire crews there also battled blazes fueled by searing temperatures and high winds.
The worst of the brush fires in California was the Alamo fire in San Luis Obispo County, which had burned nearly 29,000 acres (117 square kilometers) as of Monday morning, according to the California Department of Forestry and Fire Protection known as Cal Fire.
More than 1,200 fire personnel were battling the Alamo blaze, Cal Fire said, adding that hot and dry conditions were expected to continue for the next several days and the inferno has been only 15 percent contained so far.
The California fires have forced the evacuation of around 8,000 people while another 10,000 have fled their homes in British Columbia, Canada's westernmost province, where around 200 blazes of varying degrees of intensity have been reported.
The Alamo fire, which began four days ago, has spread to Santa Barbara County, approximately midway between San Francisco and Los Angeles, and is currently the state's largest active fire, according to Cal Fire.
Fire containment efforts were particularly aimed at guarding mountain peaks holding vital infrastructure such as a high-voltage line that delivers power to nearby cities, according to the Los Angeles Times newspaper.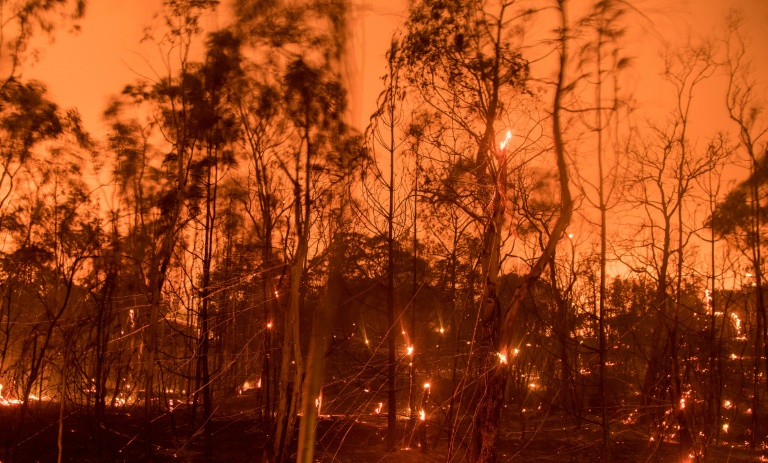 Another fire in Santa Barbara County, the Whittier fire, is threatening hundreds of homes in the Santa Ynez Valley and forced the evacuation of nearly 150 children and counselors from a youth camp over the weekend, authorities said.
DC-10 tanker aircraft were spreading retardant in a bid to prevent the blaze, which has engulfed some 10,800 acres, from spreading, according to the Los Padres National Forest service.
The Whittier fire has destroyed 20 structures and is threatening 150 more, according to Cal Fire.
– State of emergency –
Area resident Sarah Gustafson told the Los Angeles Times that she was getting her tires changed when she saw a pillar of smoke rising and realized her six cats were trapped at home.
She rushed back and managed to save the animals, and described a sky painted orange and black and "flames up on the ridge."
"It was terrifying," she told the paper. "When I got home it was smokey with ash."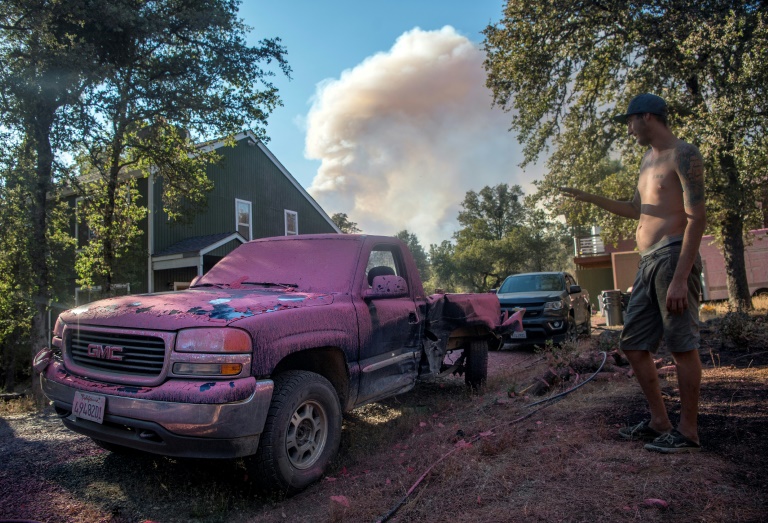 She then scrambled back to a Red Cross shelter parking lot where she and her cats spent the night.
Another blaze, the Wall fire in northern Butte County, has burned some 5,600 acres and has been 35 percent contained as of Monday morning, according to Cal Fire.
Four people have been injured by the Wall fire, according to authorities.
Most of southern California including metropolitan Los Angeles has been in the grips of a blistering heat wave with temperatures reaching as high as 110 degrees Fahrenheit (43 degrees Celsius).
Wildfires are common in California and other parts of the American west over the summer.
In British Columbia, the provincial government has declared a state of emergency as thousands of firefighters battle blazes across the sprawling territory.
Several villages in the center of the province have been evacuated, leaving more than 10,000 people temporarily homeless, said Canadian public safety minster Ralph Goodale.
"There are about 231 fires burning. Ninety-eight of these are new… At least 10 of them are very close to communities, which makes them particularly dangerous," he told a news conference.
Kevin Skrepnek, chief information officer for the BC Wildfire Service, told the National Post that lightning storms on Friday had ignited many of the fires following a prolonged dry spell.
"We're focusing now on public safety, keeping these fires away from communities, protecting transportation routes, things like that," Skrepnek said.
Forecasters are not expecting rain in the region in the coming week.