Just a few minutes after a Nelson Mandela Bay council meeting was postponed this morning due to several political parties being absent, the Patriotic Alliance (PA) formally informed the DA it was pulling out of the coalition government in the city.
"We are out. The PA did not remove former deputy mayor Mongameli Bobani in order for other parties to occupy that seat," PA leader Gayton McKenzie is said to have said via a text message in confirmation to The Herald.
The Citizen is also in possession of a letter dated 21 September 20117 addressed to Athol Trollip and signed by McKenzie on behalf of "National Leadership".
"The Patriotic Alliance National Executive Leadership hereby notifies councillor Athol Trollip of the withdrawal from the coalition in the Nelson Mandela Bay. The agreement reached was very clear, we will only enter into a coalition with the Democratic Alliance when the position of Deputy Mayor is made available for PA occupancy," McKenzie wrote.
READ MORE: Give us deputy mayor of PE or we leave coalition – PA ultimatum to Trollip
"The Patriotic Alliance Party Leader noted that at the point of discussion this position was not vacant and stated outright that the PA councilllor would assist the DA to bring back stabilisation to the Metro by assisting with the removal of the alleged corrupt then current Deputy Mayor.
"The realisation that the promises made to voters by the Democratic Alliance will never come to pass in this young coalition agreement.
"It thus leaves the Patriotic Alliance with no choice but to withdraw, as we cannot support a party that will never deliver on the mandate to service and serve its people and the constituents of Nelson Mandela Bay," the letter stated.
McKenzie also informed Trollip "the withdrawal is with immediate effect".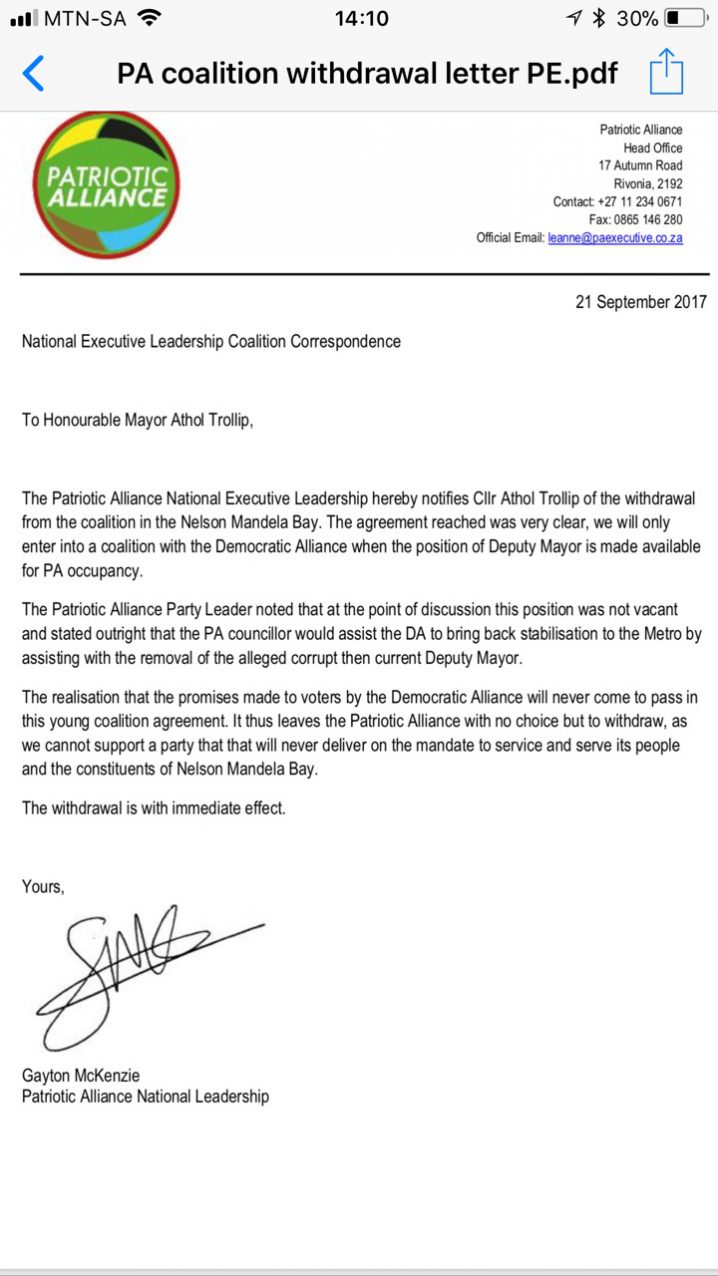 http://https://www.citizen.co.za/news/south-africa/1626053/the-patriotic-alliance-eyeing-nelson-mandela-metro-vacant-deputy-mayor-post/
For more news your way, follow The Citizen on Facebook and Twitter.