When Twitter user Jerry Taba wondered why most of South African water-scarce areas were not receiving the same attention as Cape Town, little did he know he would be unleashing the beast that is Helen Zille, a well-know member of the twitterati.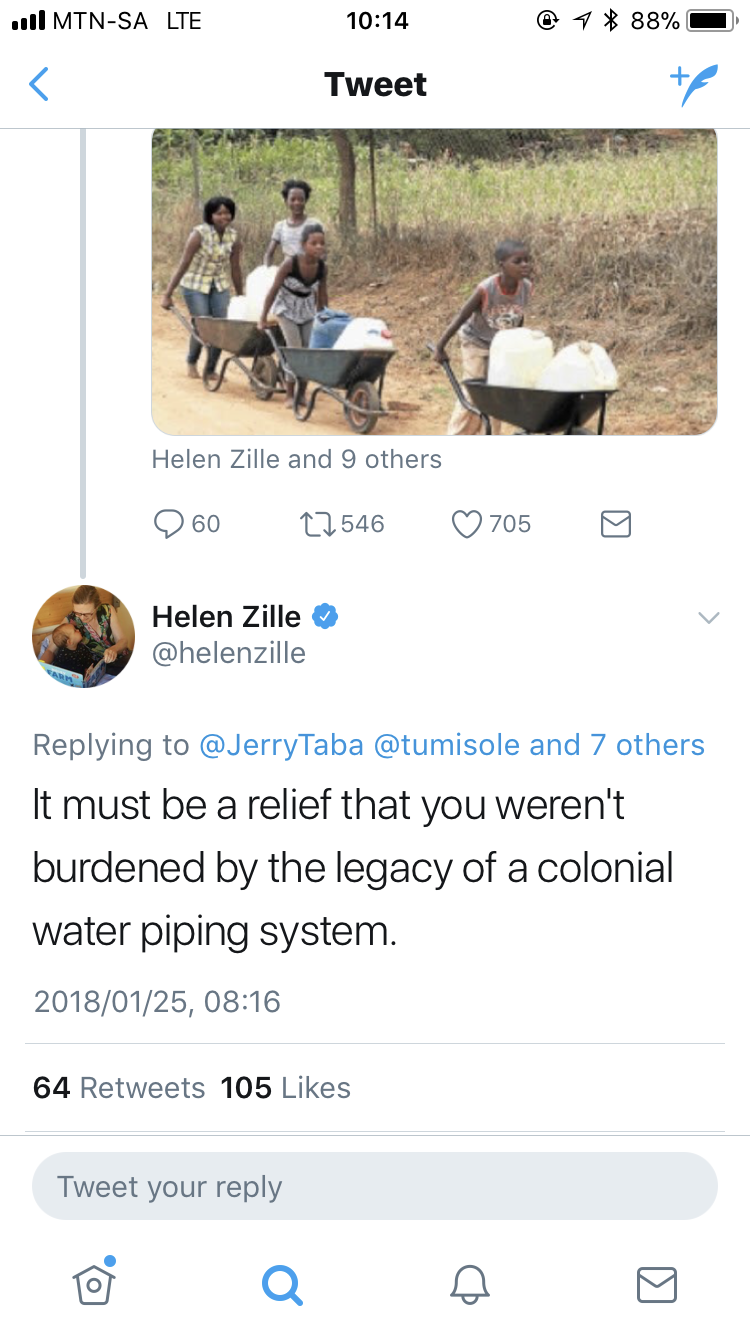 "It must a relief that you weren't burdened by the legacy of colonial water-piping system," Zille tweeted at 8.16am on January 25, 2018. I will explain to you why the date is important shortly.
What has happened is that since her days of calling Eastern Cape residents exercising their democratic right to settle in the Western Cape "refugees", and then insensitively praising colonialism for giving birth to Singapore's rise, she has remained belligerent.
It is almost as if at some point, South Africans had regressed to the apartheid-era psychological cushion against the untold pain Zille's tweets were causing among the black populace. You know what black people who lived during apartheid were expected to do? Ignore racist tormentors and hope they go away. Work with them, run chores for them, including taking their children to school, and even cook for them while knowing well how they'd rather you lived in "Africa"?
Journalist and critic Ranjeni Munusamy succinctly explained it following Zille's latest volley of tweets, which included one in which she wished Karma on the people Gauteng for having water, when she said 'uBabes weSkottel' was just Donald Trump in drag. Spot on! The similarities are jarring, and both of them seem to think diplomacy and decency are mutually exclusive when they tweet nonprintables, especially at odd hours. Is it wine, maybe?
RELATED: Either Zille goes or we go, Malema warns DA
Except in this case, the DA is taking South Africans' collective intelligence for granted. Earlier this week, the party's Federal Executive (Fedex) confirmed having written to the Western Cape premier warning her to stop tweeting about colonialism or she will once again be charged for tweeting positively about its legacy. Chairperson James Selfe confirmed to the media he had written to Zille last Thursday, but had yet to receive a response.
Really DA, is that it? In March 2017, Selfe confirmed Zille would meet the party's federal legal commission (FLC), which deals with disciplinary matters. "The party has always been built on institutions, that is why no one individual has the right to stand up and say that one must be moved so that we can build the institutional capacity to investigate," party leader Mmusi Maimane told the media at the time while expressing his unhappiness.
In the beginning of June 2017, after a two-day Fedex meeting, the party suspended Zille. Zille and Maimane soon "settled",  Zille's apologised for her controversial tweets on colonialism. During a press conference convened to deal with the "settlement", we were told Zille gave an unqualified and unreserved apology for her subsequent defence of the colonialism tweets.
She also said she regretted undermining Maimane as the leader of the DA and explained that her intention was to do everything she could to restore public trust that had been eroded.
Now we have come full circle. Clearly Maimane is 'handled' by Fedex. Why else would he take to Twitter instead of cracking the whip on this delinquent DA politican? Zille may be quiet now and emerge from a Twitter hiatus to praise apartheid this time around. After all she is free do so.
#TBT: Madonsela reminds Zuma's lawyer he's not the president's mouth