A bombshell was dropped at the disciplinary hearing of Eskom suspended interim group chief executive Matshela Koko, that links alleged private sector corruption with Eskom bosses, an ANC Youth League leader and a prominent journalist.
The allegations are contained in an affidavit by Ntokozo Dubazana, former chief of security at Makheda Protection Services that provided security for former Eskom contract manager France Hlakudi.
Koko's legal representative handed out copies of the affidavit to journalists at the hearing. It is not clear whether he will submit it as evidence at any stage. Hlakudi was implicated in R20 million-worth of bribes allegedly paid by Tubular Construction Projects to manipulate a construction contract at Eskom's Kusile project, allegations he strongly denies.
In the affidavit, Dubazana says he worked as one of four bodyguards who protected Hlakudi from February 28 2017 to November 14 2017. He states that apart from protecting Hlakudi, his job was also to transport "bags of money" for Hlakudi to Peter Sebola, Abram Masango, Sunday Times journalist Mzilikazi Wa Afrika's car and ANCYL president Collen Maine.
Hlakudi, Sebola and Wa Afrika strongly denied the allegations.
Hlakudi responded via his attorney and rejects the allegations "with the contempt that they deserve". The statement reads: "Mr Dubazana's fanciful allegations and outright fabrications are not only intended to cast aspersions on senior executives at Eskom, an acclaimed journalist, and our client, but are clearly intended to deflect attention from Mr Koko's disciplinary enquiry," he writes.
Moneyweb apologises for comments not being sought prior to publication of the initial article. See below.
Masango is a member of Eskom's executive committee working in the group executive's office. Koko moved him to this position early this year. Before that move he was head of group capital. This is the division tasked with Eskom's new-build projects. Eskom last week served Masango with a notice to give reasons why he should not be suspended.
Sebola is currently interim head of group capital at Eskom. Maine is the president of the ANC Youth League.
Dubazana says in his affidavit that on November 3 this year Hlakudi gave him a bag of cash to deliver to Maine's home in Sunninghill. He could not initially reach Maine on his cell number, but Maine called back and told him to give the bag of money to his bodyguard. Hlakudi confirmed receipt, Dubazana says.
He describes how Hlakudi earlier this year gave him a bag of money for Sebola. He met Sebola, who arrived driving a grey X5, "at the back side of the Woodmead Retail Park next to the factory shops".
According to Dubazana he also delivered a bag of cash to Wa Afrika's car "at a filling station in Sandton, next to an embassy" from Hlakudi's car.
A statement from Sunday Times' holding company Tiso Blackstar read: "These allegations should be seen for what they are – an effort to smear the journalist who exposed Matshela Koko for lavishing contracts on the company owned by his stepdaughter. The same journalist broke the story of Brian Molefe's R30 million payout from Eskom.
"We are not surprised that Mzilikazi wa Afrika would become a target for a smear campaign – there have been efforts to derail his reporting on the malfeasance at Eskom since March. When he first made inquiries about the contracts to Impulse International, Koko's stepdaughter's company, the reporter said that Matshela Koko had offered him a bag of money – which he refused. The day before publication of the story, he told his editors that Impulse International's CEO, Pragasen Pather wrote R500 000 on a piece of paper and told him: "This now, and the same again on Monday." Again, he refused.
It was after these efforts failed that Mzilikazi was told he was being followed and his life was under threat. Sunday Times published a story about that and hired protection for him.
After these efforts to throw Mzilikazi off the scent were thwarted, the next step was to try to discredit him through this affidavit.
Wa Afrika says: "I don't know the incident this man is describing. No one has ever given me a bribe. As a matter of fact, I refused a bag of money from Koko himself in the middle of the night. Why would I accept a bag of money in daylight? I also refused a bribe from Pragasen Panther."
In the absence of any credible information to the contrary, Sunday Times stands by its reporter. "If anyone has evidence of any payments they should come forward. Koko himself has never raised these issues with Sunday Times," the statement said.
Dubazana also describes how he delivered a bag of cash from Hlakudi to Masango's home in Mooikloof, Pretoria. "France told me that the bag had R2 million in it," he states. He alleges that he gave the bag to Masango's "private bodyguard".
Dubazana states that he often transported documents between Hlakudi and Andre Botha, a private investigator whom he suspects helps Hlakudi with "communication listening devices and delivering classified documents".
He further states that Hlakudi is "a close associate of Mike, a director of a company called Tubular". This is probably a reference to Mike Lomas, a former chairman of Group Five, who acted as an agent for Tubular and has been implicated as having played a key role in the alleged bribery.
Dubazana alleges that Hlakudi is protected by four bodyguards "all the time". He alleges that Hlakudi "paid the bodyguards a salary of R16 000 directly in cash every month".
He further alleges that Hlakudi "kept a good relationship with a lady known to me as Mrs Yaka (Mam ka Andile), an employee of a state intelligence service in KZN". He continues "I am not sure if Mrs Yaka worked for the State Security Agency of SAPS Crime Intelligence."
Moneyweb phoned Yaka, but could not put the allegations to her as she claimed not to understand English.
Hlakudi's full response
Former Eskom contracts manager France Hlakudi has denied serious allegations about him sending bags of cash to two senior Eskom executives, an ANC Youth League leader and a Sunday Times journalist, describing it as a web of lies.
Hlakudi responded through his attorney to the allegations contained in an affidavit by Ntokozo Dubazana, a former chief of security at Makheda Protection Services who worked as a bodyguard for Hlakudi from February to 14 November this year.
The affidavit was handed out to journalists by suspended Eskom group chief executive Matshela Koko and his legal representative at Koko's disciplinary hearing on Thursday night.
According to Hlakudi's attorney Knowles Husain Lindsay Incorporated, Hlakudi dismissed Dubazana for misconduct. "Mr Dubazana's fanciful allegations and outright fabrications are not only intended to cast aspersions on senior executives at Eskom, an acclaimed journalist, and our client, but are clearly intended to deflect attention from Mr Koko's disciplinary enquiry," he writes.
He rejects the allegations about money being distributed from Hlakudi to others "with the contempt that they deserve".
He confirms that Andrè Botha is a private investigator Hlakudi hired, but says Botha was hired to investigate an armed robbery at Hlakudi's Limpopo premises. "Mr. Dubazana's speculations regarding Mr. Botha's role are arrant nonsense."
He says Mrs Yaka is an elderly woman from KwaZulu-Natal, who is unemployed and "as far as our client is aware she never worked for any intelligence agency or the police". Hlakudi, who is an engineer, mentors Yaka's daughter who is an engineering student, he says. "There is nothing sinister in their relationship." (Statement ends)
Sebola's comment
Peter Sebola denied having received money from Hlakudi. He told Moneyweb he is disappointed with current events and does not want to be dragged into it any further. He said he respects his colleagues, including Koko.
The implicated Sunday Times journalist Mzilikazi wa Afrika on Thursday night published the following on Twitter: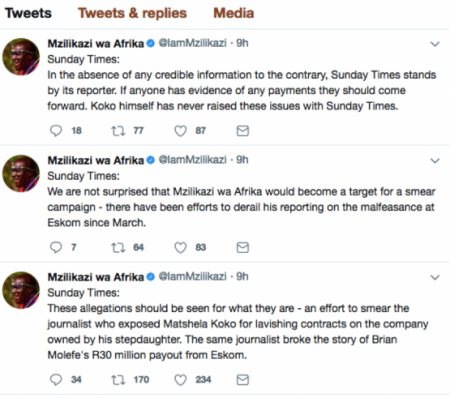 Moneyweb apology
The first version of this article did not include the comments from various parties who were implicated by the affidavit by Ntokozo Dubazana. This was an oversight and contrary to Moneyweb's internal policies and the Press Code. The original article was taken down as soon as the oversight was discovered.
The comments of all parties on the allegations have now been included in the revised article. I apologise unreservedly to all affected parties for this oversight.
Ryk van Niekerk
Editor of Moneyweb
Brought to you by Moneyweb
For more news your way, follow The Citizen on Facebook and Twitter.