With winter here already, it is the perfect time to grab a blanket, a cup of something warm, and snuggle on a couch in front of your TV set. And why not escape the cold weather by enjoying a good soapie after a hectic day at work, delighting in great TV with your family.
Because TV these days is filled to bursting with programmes, which can sometimes be overwhelming, it's wise to know which channel to tune in when in need of a good dose of soapie drama.
Uzalo
The big secret is finally out. MaNgcobo now knows that her best friend MaMlambo is the woman who has been intimate with the husband, Nkunzi. Hurt and furious at the same time, MaNgcobo hangs the traitor's dirty laundry out for all in the church to see.
https://www.youtube.com/watch?v=2K_VKmvOjgU
The truth hurts and everyone deals with a scandal that no one expected. MaNgcobo is a woman scorned, and Nkunzi is scared that MaMlambo will pay for their affair. Nkunzi's worries are misplaced, however, as the real scandal is what happens when the night is over. He gets shot, and MaNgcobo desperately shakes awake his motionless body.
MaNgcobo is a mess of emotions over his condition. Qhabanga on the other hand demands that Captain Mthimkhulu finds the men who shot his brother.
Uzalo airs Mondays to Fridays on SABC1 at 8.30pm
Rhythm City
Now that the truth is out, leaving Pearl and Mzi in shock, they are both attempting to confess. Mzi, however, might be too late if he doesn't immediately fight for Pearl, because it looks like she is moving on, with her father David having new ideas for her.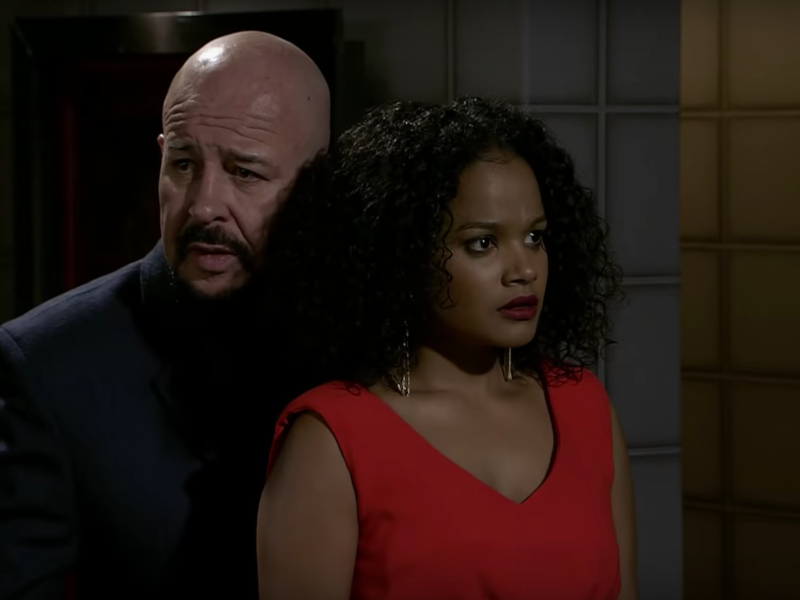 Mzi is devastated after realising that he might lose the love of his life. He cracks when he hears Pearl is moving on. David catches Mzi red-handed, leaving him and Pearl wondering what to do to bring their families together. Meanwhile, Mapula grows more unstable under the pressure of Melusi, as the latter makes Mapula dance to his music.
The princess arrives at the ball, but is prince charming everything she expects him to be? Mapula reels after the matric dance shock, leading Melusi to v Uzalo airs Mondays to Fridays on SABC1 at 8.30pm spin more webs to trap her. Despite what happened, Mapula tries to find a way forward. Sindiswa advises her friend Mapula to press charges, however, Melusi finds Mapula's bruise photos on her phone.
Rhythm City airs Mondays to Fridays on e.tv at 7pm
Skeem Saam
While John Maputla has always been on the side of Principal Thobakgale, offering advice and being a shoulder to cry on, Maputla drops a bomb on Thobakgale, leaving her really disappointed. Her circumstances prove true that when it rains, it pours.
https://www.youtube.com/watch?v=tmaTau8A8rA
She gets devastating news from her employer, leading to her betrayer turning into her comforter. Though Thobakgale's story makes the headlines, she decides not to take things lying down and confronts her enemy. On the other hand, Kwaito's gut feeling pays off when he hears surprising news over the radio, however he is adamant that he's not yet out of the woods. Serial killer Alexos Mathon  threatens Petersen in the worst way imaginable. Mathon later gets cornered by Petersen in a manner he never expected. Petersen recognises that he is dealing with a different animal in Mathon.
Skeem Saam airs Monday to Friday on SABC1 at 6.30pm
The Queen
Patronella is convinced Gracious will kill her. Meanwhile, Gracious accuses Gift of stealing from her. Mjekejeke pulls out all the stops to get Gracious her money.
Goodness on the other hand is accused of doing the unthinkable. At the Maake household, Roy and Thato confront each other over Roy's betrayal.
Something strange is happening at Boi's Corner. Thato feels like Diamond is getting way too close to him, but Vuyiswa and Jerry are also closing in on Diamond. The Khozas as usual gear up for a war with Gracious.
The Queen airs Mondays to Fridays on Mzansi Magic at 9pm