Ntsiki Mazwai is at it again, this time, all roads lead to former president Nelson Mandela. In a series of tweets, Ntsiki says she does not consider Nelson Mandela her hero but a "chauvinist" who oppressed his ex-wife Winnie Madikizela-Mandela. She continues to tweet: "We chose the wrong Mandela as president…Madiba was ALWAYS weaker than Winnie."
Her tweets follow Winnie Madikizela-Mandela's continuing battle challenging the estate of former president Nelson Mandela, seeking the rights to his home in Qunu, Eastern Cape. Madikizela-Mandela was the former president's second wife for 38 years and was left out of his will after he died in December 2013.
Also read: Fidel Castro is 'greater' than Nelson Mandela
The Citizen previously reported that in his will, Mandela's homes in Qunu and Houghton, Johannesburg, would be held in the Nelson Rolihlahla Mandela Family Trust and the Nelson Mandela Trust.
Madikizela-Mandela claimed Mandela may have committed land fraud when he registered a plot of land in Qunu, Eastern Cape, in his own name.
She claims jailed abaThembu King Buyelekhaya Dalindyebo gave her the land when Mandela was imprisoned and that it was rightfully hers. She contends the registration of the house in Mandela's name was unlawful and should be set aside.
It is for this reason Nsiki says she "resents" Madiba; he wanted to "humiliate her" with this will, "what an ungrateful bitter man".
Ntsiki says Madikizela-Mandela made the Mandela name famous yet Madiba was "too bitter" to give her a simple house.
She tweeted: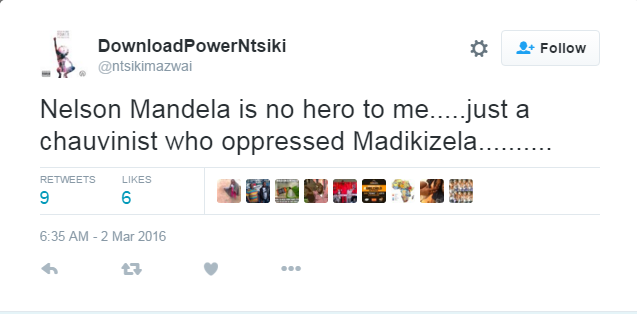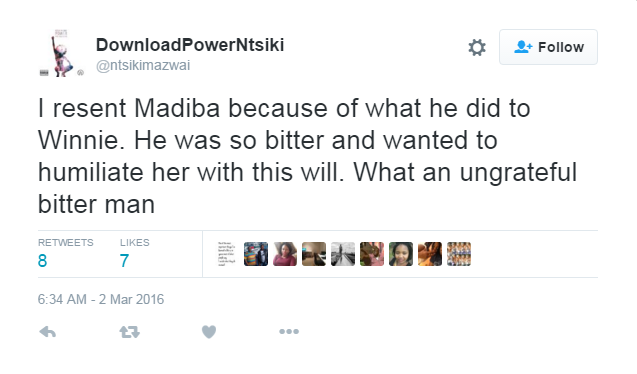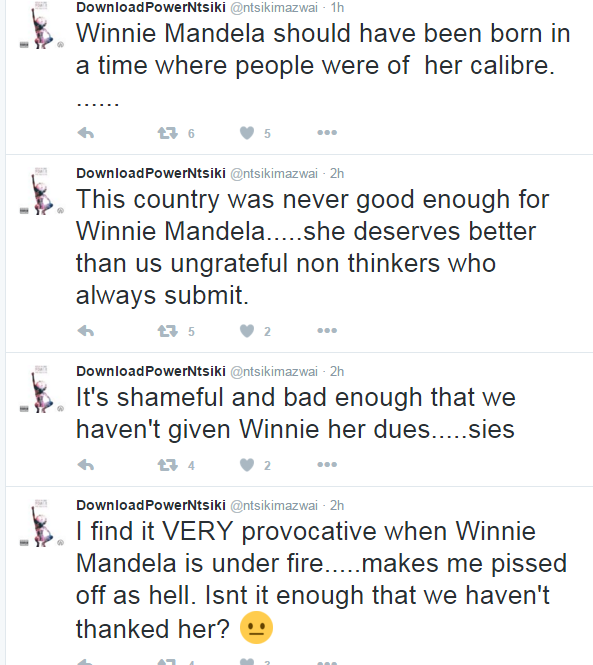 Additional reporting by Sapa.
For more news your way, follow The Citizen on Facebook and Twitter.