Audi has just launched their all new A4 model, said to be more powerful, more efficient and more intelligent than its predecessor. In fact, Audi claims the new arrival will set the new benchmark in its class.
Coming from Audi, this claim has to be taken seriously. The Audi A4 is not only the Audi with the longest history – it is also the brand's top model line in terms of volume.
To date, more than twelve million vehicles have been sold internationally, making the A4 the most recognised and sold Audi across the globe. Since its local introduction in 1994, Audi South Africa has delivered 109 382 Audi A4s to the market.
The new A4 is 4,73 metres long, with a wheelbase of 2,82 metres. A prominent horizontal line on the front and rear emphasizes the car's width. Compared with the previous model, the car's dimensions have grown but its mass has been reduced by up to 120 kilograms, depending on the engine.
The body of the new Audi model is one of the lightest in its class, thanks to an intelligent material mix and lightweight construction. The Singleframe grille is wide and low. Xenon headlights are offered as standard equipment, while the optionally available LED headlights make a strong visual trademark.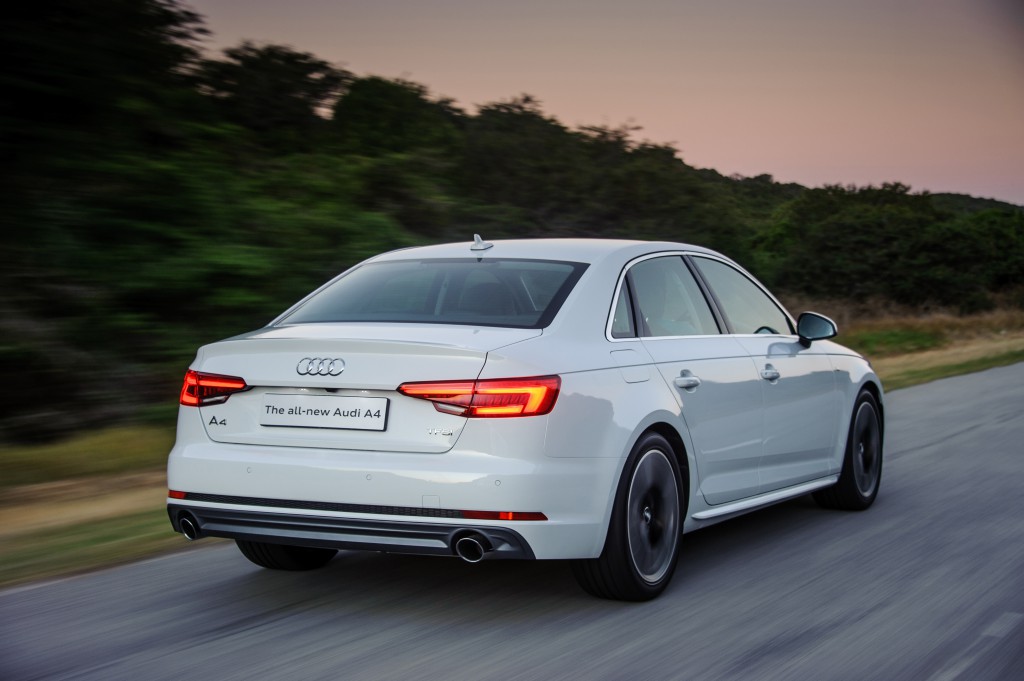 The A4 Sedan has the best drag coefficient in its class at 0.23 – the result of complex fine-tuning and new solutions. The outer lines of the air inlets integrate additional openings to guide air over the wheel well, where it flows past wheels which have also been aerodynamically optimized.
In South Africa, the new Audi A4 will be available with a choice of two petrol engines, while a diesel and an additional petrol quattro model will follow shortly after. All engines will be offered in S tronic transmission with multitronic CVT transmission discontinued.
Available at launch will be a 1.4T FSI engine which has a maximum output of 110 kW of power and 250 Nm of torque, which will come with a choice of manual and S tronic transmission. Also available at launch will be the 2.0T FSI with 140 kW and 320 Nm of torque, available only in S tronic.
In addition, a 2.0T FSI quattro will be introduced in April, boasting 185 kW of power and 370 Nm of torque. Towards the end of 2016, a 2.0 TDI with 140 kW will round out the local offerings.
The handling of the new A4 makes a great leap forward: on the one hand sporty and performance oriented, but with a focus on comfort at the same time. The suspension and steering filter out disturbances such as an uneven road surface, but communicate to the driver important information such as increases in lateral forces and tracking.
Standard driving assistance systems include Audi pre-sense city, secondary collision brake assist and the adjustable restraint system.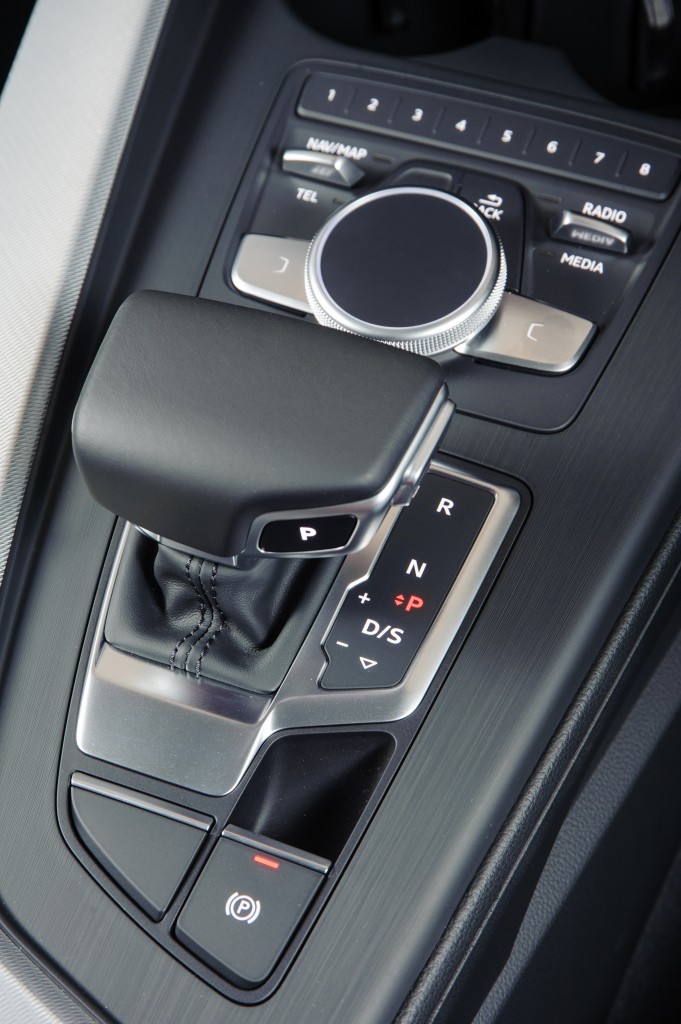 The City Assistance package include a parking system, plus a reverse camera, side assist, rearcross traffic assist, plus Audi pre sense and exit warning systems. Audi South Africa will offer three lines, namely Standard, Sport and Design.
Standard equipment in the Audi A4 1.4T FSI manual and S tronic models include 16-inch alloy wheels, Xenon headlights, S tronic gear selector with multi-function steering wheel, MMI radio with Bluetooth, driver information system, tyre pressure monitoring, partial leather upholstery, rain sensor, automatic air-conditioning and electrical interface for external use AUX-IN and USB.
The Sport line will offer 17-inch wheels with a five-spoke Y design, inlays in aluminium ellipse, rear diffuser, a three-spoke leather steering wheel with multifunction, sports suspension, front Sports seats and tailpipe trims in chrome.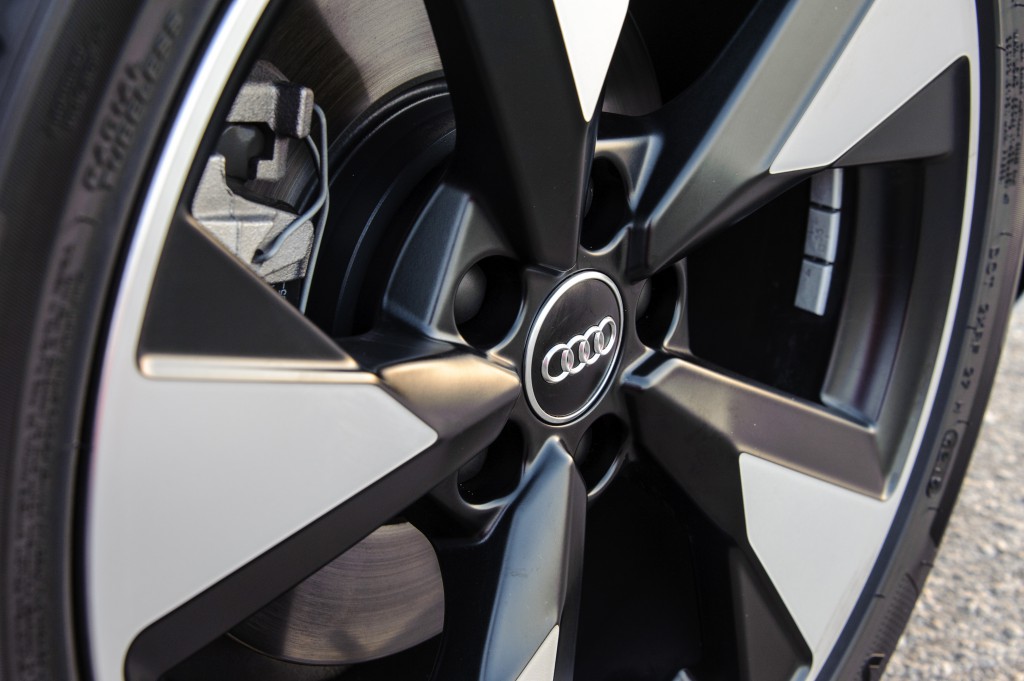 The Design line will contain 17-inch wheels with a ten-spoke crystal design, radiator grille in dark chrome high gloss and inlays in chrome, a rear diffusor in dark chrome matt, a three-spoke leather steering wheel with multifunction, and tailpipe trims in chrome.
Inside, shoulder width and head clearance for driver and front-seat passenger have increased by 11 millimetres, with the interior length grown by 17 millimetres and rear legroom 23 millimetres larger. A band of air outlets is arranged over the gently sloping, curved front of the dashboard, punctuated only by the instruments.
The upper edges of the dashboard and the door trim border the interior in a wrap-around style. The Audi A4 is also a leader in its class in terms of noise levels with minimal road noise evident while driving, due to compound safety glass with acoustic film on the windscreen.
Technological highlights include Matrix LED headlights, the Audi smartphone interface, a Bang & Olufsen sound system with 3D sound, Audi connect services and new driver assistance systems.
The MMI control concept in the centre console is also a newly designed feature and acts as the main control element. The infotainment system, MMI navigation with MMI touch and a 8.3-inch monitor, has a touchpad in the rotary controller to zoom in and out and to enter characters.
The MMI control logic is similar to that of a smartphone and includes an intelligent free-text search function. The voice-control system understands input in normal everyday language.
New owners are able to optionally specify Audi connect services, which connects the A4 with the Internet through a data SIM card. Passengers can surf the Internet and send and receive e-mail with their mobile devices via a Wi-Fi hotspot while the driver can use the tailored services of Audi connect such as Google Earth navigation and points of interest search.
The Audi smartphone interface is a new feature now available in South Africa. It integrates iOS and Android mobile phones into the Audi MMI.