The woman who lodged a complaint of sexual harassment against ANC spokesperson Pule Mabe said she is "saddened" that she has to "publicly speak out against" the party's decision to clear him of the allegations.
Mabe was accused by his former personal assistant of three instances of sexual harassment, but an ANC grievance panel appointed to probe the allegations against him apparently found no evidence of it.
The panel was chaired by Sdumo Dlamini, Thoko Didiza and two other representatives from the ANC's headquarters.
Mabe was to return to work this week, the ruling party said in a statement on Monday afternoon.
The complainant, 26-year-old Kgoerano Kekana, said in a statement on Thursday that she disagreed with the outcome by the panel.
Kekana said only one of the eight witnesses who would have corroborated her accusation that she had been repeatedly harassed by Mabe was called before the panel.
READ MORE: Pule Mabe to return to work after internal ANC panel clears him of sexual assault
"Incredibly, I was not informed when this one witness was called and I thus have no knowledge of what she said. The report merely states her name but nothing about her evidence," Kekana said.
She said the panel's outcome demonstrated that it "has given way to toxic masculinity, misogyny and patriarchy".
"Not only is this an affront towards women, it gives further courage to abusive men to bully female subordinates," Kekana said.
She said it was "disturbing" that the ANC did not have personnel policy manuals, specifically ones on recruitment, appointment and promotion and on sexual harassment. This was something the panel admitted in a statement on Monday on the outcomes of its findings regarding Mabe.
She further said that Mabe's "conspiracy theories" that her complaint was politically motivated are "an insult".
Kekana said the outcome by the panel shows her that it did not take the matter seriously and was "simply trying to tick the boxes".
"My legal counsel and I are exploring other avenues, one of which is the Commission for Conciliation, Mediation and Arbitration (CCMA)."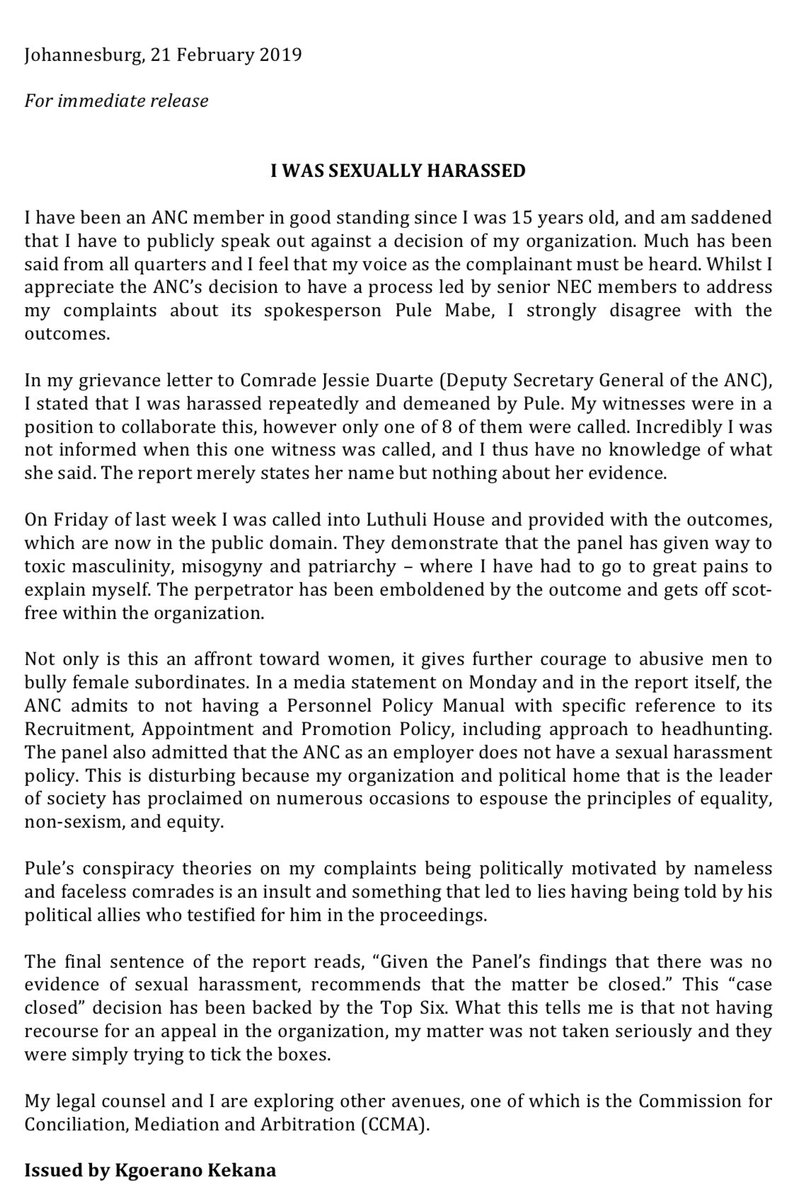 For more news your way, download The Citizen's app for iOS and Android.