Globally the Fiesta is Ford's bestselling car, and it does pretty well in SA too, where it competes most of the time with VW's Polo.
And the eighth generation, all-new Fiesta was recently launched with a bag full of high tech, standard offering, and tricks to continue to battle its rivals.
The all-new Ford Fiesta is said to raise the stakes in the compact car segment by building on the proud heritage of the very successful outgoing model, while lifting the benchmark significantly in terms of quality, refinement, technology and safety.
The Fiesta's widely acclaimed fun-to-drive character has been lifted to new heights, and its eye-catching new design embodies trend-setting style and sophistication.
The revolutionary interior design also takes a big step forward by delivering significant gains in space, comfort, ergonomics and technology it is claimed.
The multiple award-winning 1.0 EcoBoost engine remains a cornerstone of the Fiesta line-up, with a choice of new six-speed manual or auto transmissions, along with the option of a frugal 1.5-litre TDCi diesel engine.
The all-new Fiesta, which is available right now, comes in two specification levels only – the feature-rich Trend series and the range-topping Titanium that boasts an outstanding level of standard equipment.
The entry-level Ambiente model has quietly disappeared. I have already said this earlier on in the supplement, I don't like getting too stuck into the styling of any vehicle, unless I feel it really warrants a mention.
And I do think the styling of this Fiesta warrants some comment.
And the reason for this is that my wife has owned every generation of Ford Fiesta introduced into South Africa, and this new one hasn't got her chomping at the bit to change her car.
While from the front it is a typically sharp-looking new Ford, I don't particularly like the rear slightly-older Figo look, nor the almost-like small SUV stance the styling lends itself to.
In my humble opinion, I feel that the styling of this Fiesta is not as "sharp" or as "young" as it used to be. And maybe that is the point, the Fiesta has grown up a whole lot over the years, to perhaps have the potential buyers.
I do think though on the inside, this Fiesta has moved ahead of the competition, and cleaned up its act, so to speak.
The number of buttons on the centre console is reduced by almost half, with many connectivity and entertainment controls relocated to the 6.5-inch touchscreen fitted as standard on the Trend models, or the 8-inch version on the Titanium incorporating SYNC3 with Navigation.
There is some extra room in the back, and rear seat passengers now benefit from 16mm more knee room, supported by slim-back seats that are softer, and offer greater side-to-side support.
The tailgate is wider for easier access to the boot, and improved storage for personal belongings is delivered with a 20% larger glovebox and a 1.0-litre storage bin and armrest in the centre console.
Fiesta's active and passive safety systems, combined with a comprehensive range of driver assistance technologies, deliver the highest safety rating yet for this model.
The body features 36% more boron steel for greater strength in key areas.
Redesigned door cross sections further protect occupants against side impact intrusion, and the doors also now contain pressure sensors that enable restraint systems to be activated several milliseconds sooner.
Front, side and curtain airbags are standard fitment across the range, along with an innovative restraint feature that includes a locking seatbelt tongue for the driver's seat belt – a mechanically activated device that helps prevent slippage of the belt during an accident and eliminates the need for a knee airbag.
Rear outer seats also now feature load limiters and pretensioners – previously offered only for front seats – to further restrain passengers and help prevent belt-related injuries.
All models boast an extensive list of driving aids, including ABS brakes with electronic brake assist (EBA) and electronic brakeforce distribution (EBD), as well as hill-launch assist (HLA) and electronic stability and traction control (ESC).
And as alluded to, there has been some serious model rationalising happening.
You can get a 74kW / 170Nm 1.0-litre EcoBoost petrol engine in Trend spec with a new six-speed manual gearbox, as well as the Trend and Titanium spec models with a conventional six-speed torque converter automatic transmission.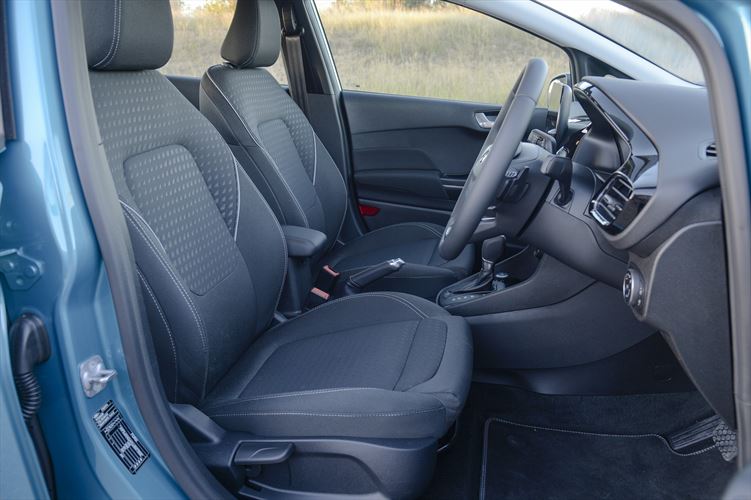 We drove the Titanium spec automatic model, and it made for easy driving, but you can't help but think that its six speed manual version, that kicks out 92kW, would be more fun to drive on the open road, but less so in traffic because of not being automatic.
Offering the ultimate in frugal fuel consumption, I heard numbers of under 5.0-litres per 100km being mentioned on the launch drive.
The 1.5-litre TDCi turbodiesel is exclusively available with a six-speed manual gearbox, producing 63kW of power and a torque peak of 175Nm.
Fuel efficiency is further enhanced with Auto Start-Stop technology on all engines, and a new Eco button for manual transmissions adjusts engine and throttle settings to help drivers save even more fuel.
The hatch is said to be even more fun to drive and offers the sharpest, sportiest and most balanced performance yet from a Fiesta.
It is stiffer, wider and the chassis now offers 10% more cornering grip, while braking distances at 100 km/h are reduced by more than 8%.
All claims I did not get to test on the launch drive, but I am sure I will. Reflecting the consumer shift towards portable digital multimedia, Fiesta delivers Bluetooth connectivity and two USB ports as standard.
A high-end seven-speaker sound system is featured on the Fiesta Titanium models, with a six-speaker set-up on the Trend models.
And before you knock the pricing, just do yourself a favour and compare what you get in a Fiesta as standard fitment versus all the competition that offers most of their luxury as an optional cost.
The bottom line is that the all-new Ford Fiesta has grown up a bit, offers more, and has become a whole lot more sophisticated in the process.
WATCH VIDEO BELOW
https://www.youtube.com/watch?v=4i-creMHQ3M&feature=youtu.be
By Mark Jones