Board games and card games are generally excellent for your child's overall development as it teaches children and adults social skills such as taking turns, remembering and following instructions, paying attention to others, facing consequences of your decisions, providing opportunities to deal with good and bad luck; and depending on the type of game, other skills such as spelling, numeracy, speed, and perceptual skills are also boosted.
Board games and card games further promote concentration, social skills and provide you and your child with the opportunity to spend time together – building your relationship during good times (when your child wins) and bad times (when your child loses).
Everyone is generally familiar with the popular games of Monopoly, Uno, Pictionary, 30 Seconds, Cluedo and Charades. These games are usually great "go-to" games, especially for older children.
There are however many other exciting and fun games out there, and so many brands with really good quality games too – brands such as Smart Games, ThinkFun, Djeco, and Headu to name a few.
I am going to tell you more about a few games that may be worth getting:
Games for the younger children (2 – 10 years old)
Cooperative Games
There are many cooperative board games – what I love about these games, is that everyone gets to be on the same side against e.g. the sun or an ogre on the board game. This builds teamwork and promotes bonding between your children. Hoot Owl Hoot! is a lovely cooperative game if you want to involve your younger 2-3-year-old in a board game that is also fun for older children (up to 8 years). It will teach the younger children more about colours, and for the older children about problem-solving and making good decisions, such as to get the owls to the nest before sunrise!
Another cooperative game that is fun for children 3-4 years old to about 10 years of age is Race to the Treasure. Here the children need to place keys and ogre food on the coordinates provided by the dice thrown (good for spatial awareness). Then build a path to get the keys and get to the treasure before the ogre. This game usually takes about 10-15 minutes, but children love playing it over and over again!
Spot it! is a fast-acting game where children need to look at the card on the table and find the one object that matches an object on their own cards. There is only one matching object between any two cards. The other name for Spot it! is Dobble. It comes in a strong tin container and is small and easy to take along when going on holiday.  
Candyland: You'll think about Willy Wonka's chocolate factory when you play this game. The bright colours and fantasy candy land theme sparks up a child's interest. The children need to follow the rainbow-coloured road with their gingerbread pawns to see who first reaches King Kandy's Castle. There are several surprises along the way, which makes the game even more interesting. This game is enjoyed by kids from 3 – 9 years.
Games for the whole family
Djeco Classic Box game: This is a box of 12 old school games such as snakes and ladders, noughts and crosses, ludo, lotto, dice games etc. With the 12 different games in one box, this is a nice one to take with when going on holiday.
Djeco Piou Piou: This is a personal favourite in our family and is enjoyed by everyone. What I really like about it is that it is small and compact, good quality and easy to take along in your handbag. The aim of the game is to hatch as many chicks as you can before anyone else sends a fox to steal your eggs. The pictures on the game are well illustrated (typical of Djeco), further gaining the children's attention.
Rory's Story Cubes: This is a fun and great game enjoyed by the whole family. Adults can also play this when the children are already in bed. Roll the dice and create stories. This enhances creative thinking and ideation (coming up with new ideas) to add to the story.
Pictureka: There is a large Pictureka board game available, which is a lot of fun to play for the whole family. But if you need something small to take with on holiday, the travel version of Pictureka is a great option. The Pictureka card game has three different card game options: 8-away where you need to spot the missing picture in order to get rid of your cards first; Matchureka which is played like a memory game; and Cow's Creative Combo where you need to combine cards in order to match your mission.
Jenga is a popular game filled with suspense and laughter for young and old. It is also available in different colours and themes. In this game, everyone would need a steady hand to build a higher tower without letting the tower crash down.
Fun games for older kids (that can read) and adults
Telestrations can be played by up to 12 people. Ideally, more than 5 or 6 people would need to play at a time. Draw what you read and let the next person write what you drew. This is then repeated and shown to the next person … it is like the broken telephone game when a word is repeatedly whispered in the ear of the next person, but now only drawn on paper. See what the outcome is after everyone has had a turn.
Speak out is a laughter-filled game where each team gets a chance to read a sentence while having a mouthpiece in his/her mouth. The other team member must try and decipher what the sentence is. Speak out is a great game to play as a family with older children or when your kids invited friends over.
Bananagrams is a more serious word-spelling fast-thinking game that can be played in two different ways. It comes in a banana-shaped pencil bag which is easy to take along on holiday. For those who love reading and language, this game is a must.
In conclusion, there are so many great options available on the market, and these are only a few. Have a look at online stores or go to your nearest toy store. Board games are not only fun for everyone, but also enhance social skills, concentration, forward-thinking and problem-solving skills.
---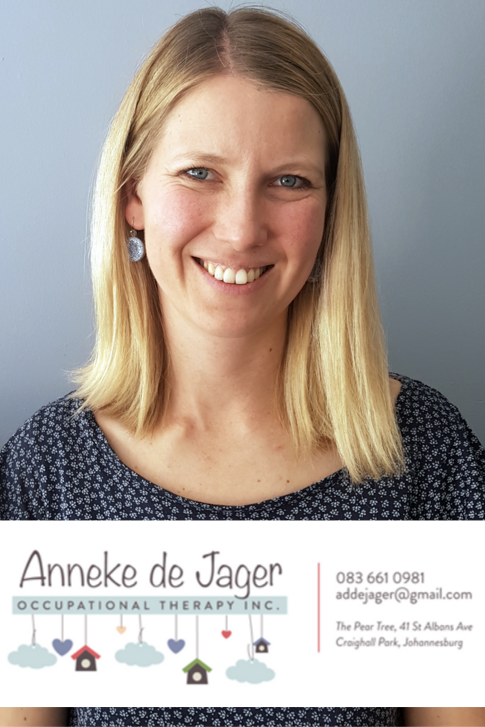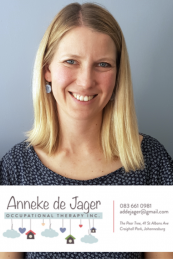 Anneke is a paediatric occupational therapist with a special interest in sensory integration. She has been in private practice since 2011 and loves each moment spent with children. She has extensive experience working alongside a variety of schools, parents, teachers and therapists. Being a mother of two boys herself, she also has first-hand experience of being a parent. Anneke is also involved in providing training and workshops to caregivers that work with children with disabilities. 
Based in Johannesburg, Anneke works with children that may have learning difficulties, sensory defensiveness, sensory processing disorders, developmental delays, scholastic difficulties, cerebral palsy, autism, epilepsy or any other diagnoses. She also has a special interest in and is currently furthering her studies in dyslexia.
When asked about her work, Anneke would say: "I love what I do and believe that each child has a lot of potential that can be unlocked".
Our website address is:  https://thepeartree.co.za/paediatric-occupational-therapist/ and my Facebook page is: https://www.facebook.com/annekedejagerot/
If you found this article useful or interesting, why not subscribe to Parenty's weekly newsletter for a wrap up of that week's best content.